Lineup of Space-E products
Space-E/CAM Hybrid2D, a CAM system, made its debut for the purpose of creation of machining data for mechanism element molds.
Space-E/CAM Hybrid2D meets the need for creating 2-axis or 2.5-axis machining data directly from a 3D model. The most outstanding feature of this system is low-end, easy creation of machining data.
Space-E/CAM Hybrid2D uses Space-E/Modeler as a base system and provides the STEP Direct Translator as standard equipment that converts STEP (AP203 and AP214) to Space-E models (.mdp).
2D/2.5D Machining Functions
Pocket Machining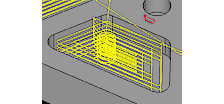 This function can decide specified pond and island areas to create a pocket machining path. In addition, because you can set a spiral approach, pocket machining can be performed without prepared hole processing.
Incomplete Outline Cutting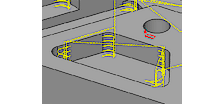 This function automatically calculates parts that were not completely cut with a previous tool and can create a path effective for remaining machining parts.
Outline Machining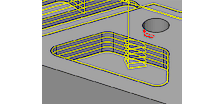 This function creates an outline path for finishing based on a specified area.
It can create a high-quality path of machining requiring accuracy, such as specifying the number of final driving processes or supporting a diameter correction path.
Bottom Finishing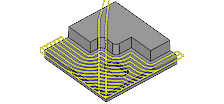 When a bottom is specified, this function easily creates a path for finishing the bottom in consideration of interference. It can create the path in a short time without a troublesome filling hole process such as ignoring holes of a product.
Side Finishing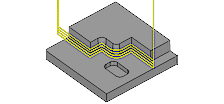 This function achieves high-quality finishing of a side. It can create diverse paths of machining related to side finishing, such as drip prevention of edge parts or diameter correction.
Corner Finishing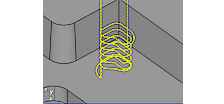 This function finishes a specified corner partially. When a previous tool is specified, the function can create a path for only unfinished parts. Therefore, the path can be created with economy.
3D Machining Functions
Contour Rough Finishing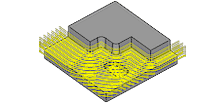 When a model shape and a work element are specified, this function can easily create a path for contour rough finishing.
Contour Finishing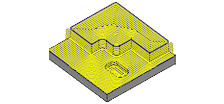 This contour finishing function prevents drip from edge parts and achieves polish-less. It can finish an inclined surface that cannot be finished in only contour machining.
Incomplete Contour Cutting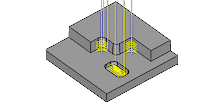 This function creates a contour path at the parts that were not completely cut in a previous process. It can create the path with cutting load reduced, depending on the thickness of the incomplete parts.
Free Path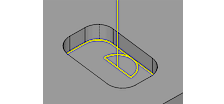 This function creates curves drawn freely on CAD as machining data. It achieves multipurpose machining such as outline machining, character carving, and rib machining.
Other Functions
Drilling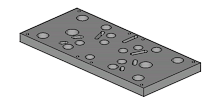 This function can easily create a path using a fixed cycle.
Feature Machining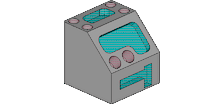 This function extracts a machining part from a 3D model to automatically create a machining process.
STEP Translator
Direct Translator is provided as standard equipment that converts STEP (AP203 and AP214) to Space-E models (.mdp).