Providing flexible modeling environment together with surface and solid functions.
Solid modeling provides a command used to place a basic solid shape easily, a command used to create a solid from a 2D shape, or a command used to add or subtract solid shapes mutually.
Our surface modeling is the best in market and will enable creation and edit of complex free form shape for automotive and home electronics parts.
Solid Functions
Remove Face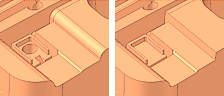 When you specify a part of an item consisting of solids, this function can change its shape as if the surface of the part is removed.
Fillet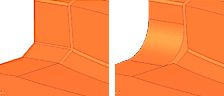 Fillet between face and face can create fillet face over the edges.
Boolean Implant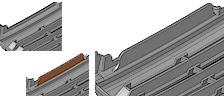 Sheet body can be implanted to solid body other than standard boolean operation such as unite, subtract and intersect.
Boolean Difference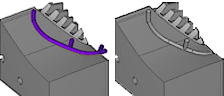 Easy to create mold shape by using solid subtract operation.
Add Thickness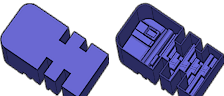 Add thickness to solid body. Different thickness value can be applied.
Auto Healing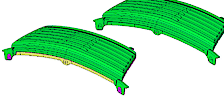 Create solid body automatically from complex surfaces.
Surface Functions
Surface Matching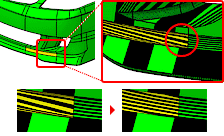 Matching neighbor surfaces considered normal vector, tangent vector and curvature.
Sweep Surface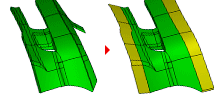 Create sweep surface along to normal vector of tangent vector.
Surface Extension
Extend surface along to tangent or curvature direction.
Surface extension can be applied to trimmed surface too.
Trim By Area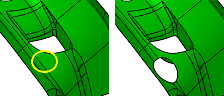 Composite curves or edges can trim complex surface or solid model.
Parting Face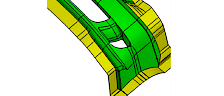 There are three kind of parting face commands.
Fillet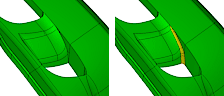 Variety of fillet commands are ready for many situations.
Other Functions
Split Cavity & Core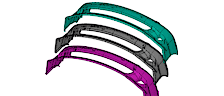 Split "Cavity side face" and "Core side face" can apply to surface and solid model.
Rotate Sections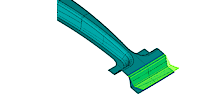 Rotate surface sections by base edge and rotation angle.
Electrode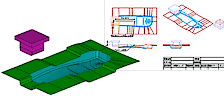 Automatic creation of electrode model and drawing.
Unfolding Flange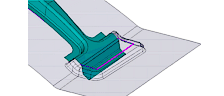 Create flange shape by easy operation.
Drawing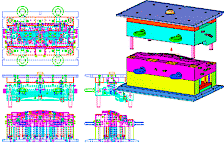 Semi automatic creation of 2D drawing from 3D model. There are function-rich dimension commands to finish drawing.
Plot Point On Curve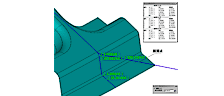 Create points on curves according to measured actual length.