Lineup of Space-E products
Fulfilling functions to support injection mold designers covered concept design to detail design.
Total support from design to CAM by effective utilization of design data.
Functions
Futaba Standard Mold Base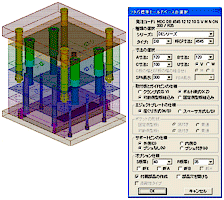 Support Futaba standard mold base, S series (some of them not supported), D and E series, F and G series, H series.Customer can define own size other than maker's standard.
Intelligent Parts Placement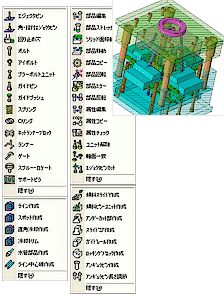 Space-E Mold provides various commands used to automatically place mold parts such as a plar bolt, a guide pin, and an ejector pin.
Even after they are placed, the positions and dimensions of them can be easily changed.
This will change holes opened on a plate.
Parts Constrain by Assembly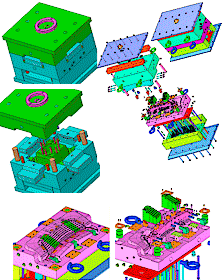 Add constrain information to plate or parts, then simulate as actual mold set.
Animated display and spreading image can be shown as mold base movement and break down parts.
Drawing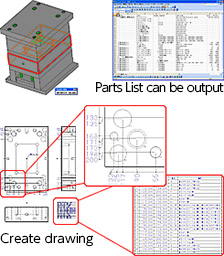 In a form, the system can output a list of parts used for a mold and the length of used ejector pins before or after the pins are cut.
The form conforms to the format of a mold parts manufacturer, which makes it easy to place an order.
For drawing of the plate where hole parts are placed, the dimension lines of hole positions and a hole table can be automatically created.
When hole positions or hole diameters are changed in a mold model, a drawing is also updated with the change.
Standard Parts Database (CatalogWindow)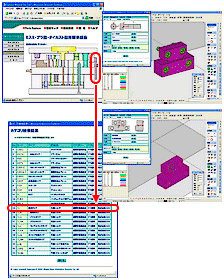 Support standard part from Champion, Misumi, Punch and Futaba catalogues.
Customer can place the part by drag and drop operation.
There are more than 2000 parts.
User Parts
User can define own parts as user parts.
You can use both the command and a drag-and-drop function to place parts as you do on Catalog Window.
Cooling Channel (Trim intersection)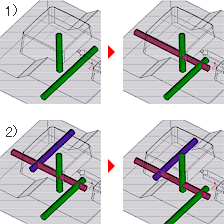 1) Easy to place a new cooling channel which intersect existing pipes.
2) If move a cooling channel, intersecting channel will move together.
Primary Evaluation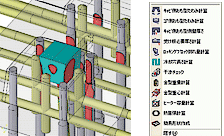 Primary evaluation can calculate weight, center of gravity and deflection of mold.
Interference check is implemented to find parts interference and parts and cooling channel interference.
Interface to CAM Drilling System (MOLD2CAM)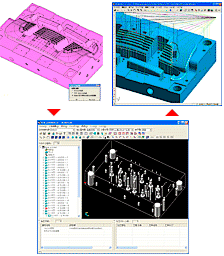 Hole information can be transferred to Space-E/CAM in order to create drilling NC data.
This enables the system to easily create NC drilling data.