Compatibility between Advanced Functions and User-friendliness
Unique functions such as import and drawing of 3D data are available on Windows NT.
Of course, you can move a data customization environment from GRADE DASH/DRAW.
"Space-E/Draw", a new design drawing support system, can transfer design data smoothly from upstream design to downstream design.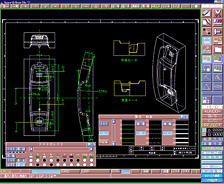 Excellent User Interfaces
Easy-to-understand menus with GUI can be used to perform tasks easily and promptly.
Enabling the concurrent start of five windows of Space-E/Draw
A copy and paste function for copying a part of a drawing and pasting it to another drawing
Easy measurement operation of the size, distance, and angle of a figure. A measuring function that can be used to enter these measurement values for another command.
A dragging and rubber band function to visually support the creation and layout of a figure and dimension line
Command history display to make it easy to restart commands
Online manual provided